Charity
Charity KEI-week 2018
Each year Stichting KEI chooses a charity organization which we collect money for during the KEI-week. In 2018, we will be collecting money for the charity Ronald McDonald House in Groningen. This will be a cooperation with Stichting FC Groningen.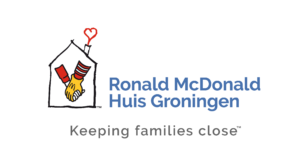 Ronald McDonald House Groningen
Having a home away from home
It has a big impact when a child needs to go the hospital. Not only for the child itself but also for its parents, brothers and sisters. Especially when the hospital is far away from home and parents need hours of travelling before accompanying their sick child.
Indispensable place
In the Beatrix Children's Hospital of the University Medical Center Groningen, children with severe diseases are being treated. Severe diseases like heart failures, lung diseases and cancer are treated at the hospital in Groningen. But also children who need lung or liver transplants. These children and their families are living in the Netherlands but also outside of the Netherlands. Because of the Ronald McDonald House Groningen, parents, brothers and sisters are able to stay close to their sick child, brother or sister. It is a place where they feel at home while being away from home.
A house to feel home
In the Ronald McDonald House, there is room for 24 families to sleep. The establishment has a warm feeling and has complete services and possibilities. Each family has an own bedroom and bathroom. It is possible to make use of the laundry machines. In the living room there is enough light for a good atmosphere and many toys to play with. The kitchens are provided with lots of equipment that make it possible to cook food for yourself or share it with others.
Sharing concerns
The Ronald McDonald House Groningen does not only take care of the housing problem. Because of the multiple families in a house, families are able to share concerns and thoughts during the hard time their child is sick.
Volunteers
The organization of the Ronald McDonald House consists of a manager and two assistant managers. However, approximately 70 volunteers do the biggest part of all the work. They take care of the guests at arrival, household chores and a shoulder to lean on. The volunteers make sure that 24/7 someone is present in the house, so there will be always someone available to take care of the guests. They literally always take care of the guests, 7 days a week and 365 days a year.
The occupancy rate of the Ronald McDonald House is over 90% for years. It is expected that the demand will only get bigger the upcoming years. Therefore, the house will expand from 24 rooms to 28 rooms. Preparations for these expansions are done and the construction of the rooms have been started. For further expansion we can really use your help.